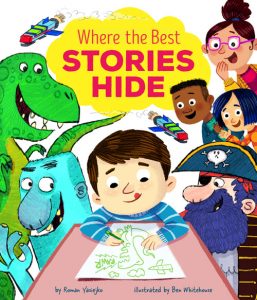 Where the Best Stories Hide
By Roman Yasiejko • Illustrated by Ben Whitehouse
Nicholas has a big box of crayons and an even bigger imagination! One day in school, he doodles his way into trouble when his teacher catches him scribbling and coloring outside the lines of his coloring book. Challenged to explain his stories, Nicholas takes a dash of creativity and a dab of courage to wow the whole class and prove that the best stories sometimes hide outside the lines. Perfect for irrepressible creatives of all ages, Where the Best Stories Hide will inspire young artists of every stripe to bravely fill the world with color.
People are Talking About Where the Best Stories Hide
"Told in playful and rhythmic language, this book will surely elicit and spark a child's imagination to tell their own whale of a tale." —Carmen Oliver, author of Bears Make the Best Reading Buddies
"Where the Best Stories Hide is chock-full of fun and imagination. It's a rhyming romp that will appeal to creative kids, teachers, and parents everywhere!" —Karen Kaufman Orloff, author of I Wanna Iguana
"…Lively, original, engaging, and thoroughly 'kid friendly' in tone and storyline, "Where the Best Stories Hide" with its underlying message in support of creativity is a unique and especially recommended addition to family, daycare center, preschool, elementary school, and community library picture book collections for children ages 4-7." – Midwest Book Review
"This story is a wonderful example of the importance of imagination in an often cookie-cutter world where the arts are sometimes put on the back burner. This lovely picture book is brimming with wonderful illustrations that truly bring Nicholas's creativity to life and a cheerful, rhyming tempo that will appeal to both children and parents. Adult readers will be reminded of the imaginative spark of childhood while children will be inspired to remember the stories that they carry within." – Pine Reads Review
Peek inside?